Complacency!
(10/10/2006 16:32)
Hands up (electronically - by way of comments if you feel like it) all those who have been hoping for a continuation from the gun going off? Anyone? ah well....
So here we are, three games in and Banditos already has a 7-1 victory under its communal belt. Not bad you might say. Damn right i would say. Down to Calabras you would retort. And that is where you'd find yourself in error... shows what you know!
No, there is a new hero at the Stadio el Banditos and he is a home town boy (sort of). A double hatrick in the demolishion of Crazy-11 (they most certainly are now - boom boom!) is the stuff of schoolboy dreams, achieved very rarely in reality. But there it is. Tis a glorious day, and because i am sure none of you would believe this shameless gloating, here it is in all it's glory!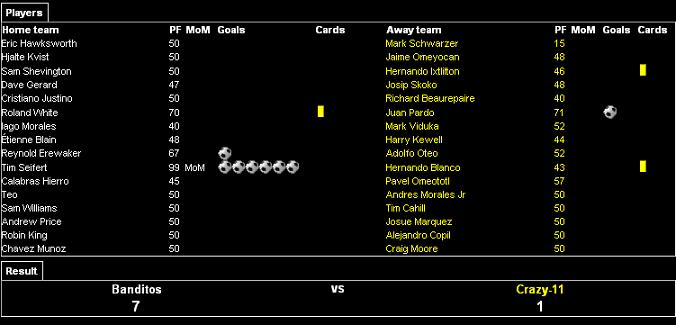 and there you have it. Gloat over before (hopefully) i am in danger of counting my chickens and all that. Will stop now...
On to other things. A few threads in the forums got me thinking, most notably the one (can't find it now) complaining of the Norwegian only forum and the one that states in english at the top "Only in Spanish". "We are not being very inclusive here are we?" I thought to myself. And then it struck me that i myself have been guilty of the same crime. I blog entirely in English, i message entirely in English, and because i am English I expect responses in kind. My associate, the manager of ****My thermos (division 4, dept 50) had trouble with a manager who wouldn't respond to queries about a player for sale. I suggested that he may not speak English, so we looked him up, took a best guess and translated the message into Spanish. Instant response!
That said English has become the lingua franca (ironically) of the net and subsequently of this website, and I am constantly impressed by the language abilities of those bloggers, thread posters and players for whom English is not a first language. So, rather than fall into the stereotype Englishman category, i am translating some parts of my blog into other languages as a desperately appaling salute to those who have language skills beyond my own!
Unfortunately, as i have not one jot of language skill, i will therefore be making use of babel fish (the website, not an actual fish in your ear) or equivalent (where the language i want is not supported). This has it's own traps, as it's translation is literal. I will therefore, translate it all back into english via babel fish again to see what i get. I would also be interested to know if the meaning of anything alters either!
SO! here goes - In honour of our fearless creators country of birth (one assumes), the above in Norwegian!
Hender opp (elektronisk - ved hjelp av kommentarer om De føler seg som det) all de som håpet for en fortsettelse fra geværet drar av ? Noen ? ah godt. ...
Så her vi er, tre spill i og Banditos allerede har en 7-1 seier under dets kommunal belte. Ikke dårlig De sier. Forbanner til høyre jeg sier. Ned til Calabras De vil retort. Og det er hvor De finner Dem i feil... utstillinger hva De vet !
Ingen, det er en ny helt på Stadio el Banditos og han er en hjembygutt (sort av). En dobbel hatrick i demolishion av Gal-11 (de mest sikkert er nå - dønndønn !) er stoffet av schoolboy drømer, oppnådd meget sjeldent i ralitet. Men der det er. Tis en strålende dag, og fordi jeg er sikker på at ingen av De tror denne skamløs gloating, her det er i all det er ære !
(Ser pic over)
Og der De har det. Gloat over før (forhåpentligvis) jeg er i fare av å telle min kyllinger og all det. Stanser nå...
På til annen ting. Et par tråder i foraene fått meg tro, mest signifikant den (ikke finner det nå) klage av den Norsk bare forum og den at stater på engelsk på den topp «Bare på spansk». «Vi er ikke være meget inklusiv her er vi ?» Jeg trodde meg selv. Og da det slått meg som jeg meg selv vært skyldig av den samme forbrytelse. Jeg blog helt på engelsk, jeg budskap helt på engelsk, og fordi jeg er Engelsk jeg venter responser i type. Min kollega, sjefen av Suger Min thermos (deling 4, avd. 50) hatt vanskeligheter med en sjef som ikke reagerer på f0respørsel om en spiller til salgs. Jeg foreslått at han ikke taler Engelsk, derfor vi slått ham opp, tok en best gjetning og oversatt budskapet inn i Spansk. øYeblikkelig respons !
Det sagt Engelsk har blir lingua franca (ironisk) av garnen og deretter av denne website, og jeg bestandig imponerer av språkevnene av de bloggers, trådplakater og spillere for som Engelsk er ikke en først språk. Derfor, heller enn fall inn i stereotypengelskmannkategorien, jeg oversetter noe deler av min blog inn i annen språk som en desperat appaling salute til de som har språkferdigheter hinsides min egen !
Dessverre, da jeg har ikke en jot av langage ferdighet, jeg derfor lager bruk av babel fish (website, ikke en aktuell fish i Deres øre) eller ekvivalent (hvor språket jeg vil ha ikke støtter). Dette har det er egen feller, da det er oversettelse er ordrett. Jeg vil derfor, oversetter det all rygg inn i engelsk via babel fish igjen se hva jeg får. Jeg også er interessert vite om å bety av noe som helst forandrer seg enten !

Well, has it worked? Have i accidently offended anyone? Let me know - unfortunatley the stupid website won't let me translate it back! Stupid Internet - everything in the world my rump!
Maybe Spanish next? Maybe if that takes off a full translation of everything! And then i shall take over the world! (There are steps in between translating my blogs and global domination, but i'm sure they are the easy ones.)
Ah, well, until next time...Au revoir...
Ps. - Not one person attempted to involve me in a polemical debate. I am disappointed by this, but will not hold it against you. The offer still stands....
Share on Facebook
Blogger has no team.