S88...A Historic Moment
(04/06/2012 09:02)
4 June 2012, Season 88, will be marked as a memoriable day for Rojak Ravagers FC as we see the club won it's first ever Division One League Title in the club's relative short history.
A series of unbelievable results against the league giants on the first two weeks stringed up an incredible run of form before losing a bit of momentum starting with the loss in League Cup and subsequent defeat in the hands of western derby rival Stay With Kop.
Just as hope seems to fade away, the players pressed on and bounced back with another series of shocking results against the league giants to pull slightly ahead of the title race.
The last match of the season was a tense encounter away from home with Zola Team. A match which will decide the title as RR and scratch are only seperated by merely a point with goal difference in favor of scratch.
Before the kick off...pre-match interview
"Team Selection had never been so difficult in my entire life!" manager Eddar.
"We must stay focused!" club veteran Jill Valentine
The players played to their fullest and they know at the final whistle, they were truly the champions of Season 88.
Post match interview.....
"Wonderful experience! Glad to win the title for the club at the twilight of my playing career!" Jill Valentine
"Mew!!" Top scorers Kiity Softpaws and Puss In Boots
" I almost had a heart attack! The ambulance was ready anytime!" manager Eddar
"Free rojak for all RR fans!" Club Chairman Mr Jin Ho Jiat
Season 88 Team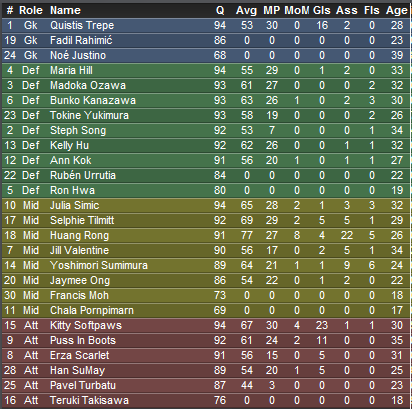 Share on Facebook
This blogger owns the team The Forsaken. Team details