Mysteries of the Universe
(15/01/2012 03:04)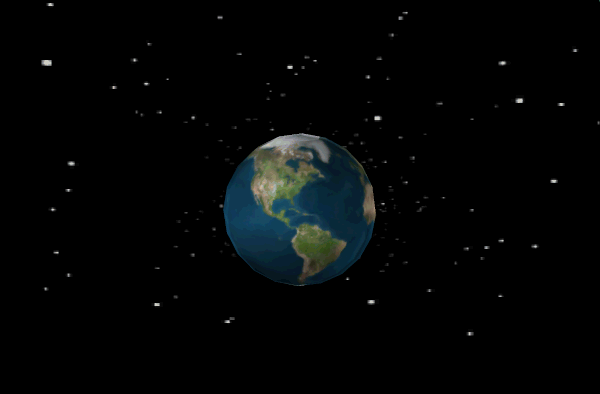 The universe is commonly defined as the totality of everything that exists, including all matter and energy, the planets, stars, galaxies, and the contents of intergalactic space
-Fun Fact-
(On October 4, 1957, Russia sent into orbit Sputnik 1, the first artificial satellite in history. Then a month later, an even larger and heavier satellite, Sputnik 2, carried the dog Laika who died of shock soon after take off)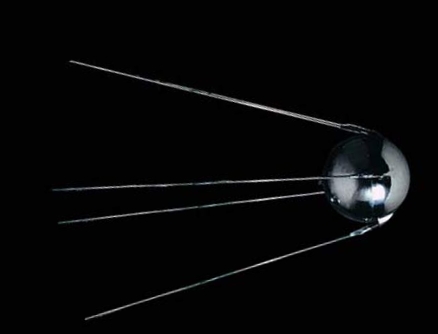 -Fun Fact-
(Americas first success, discovered the van Allen radiation belt that circles earth)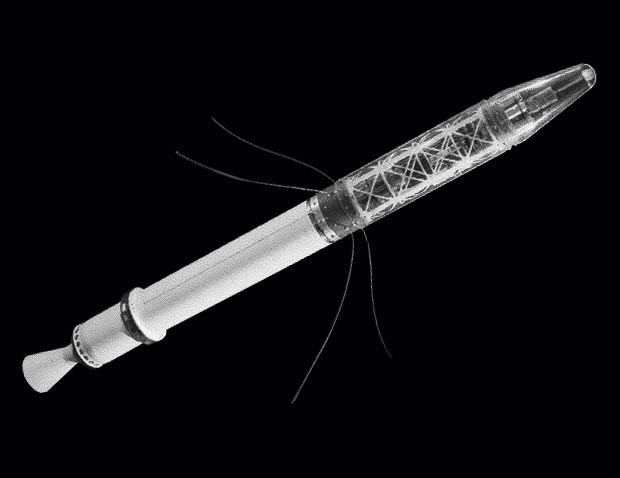 -Fun Fact-
(Launched on April 12, 1961 on board was a Russian named Yuri Gagarin making him the first man in space)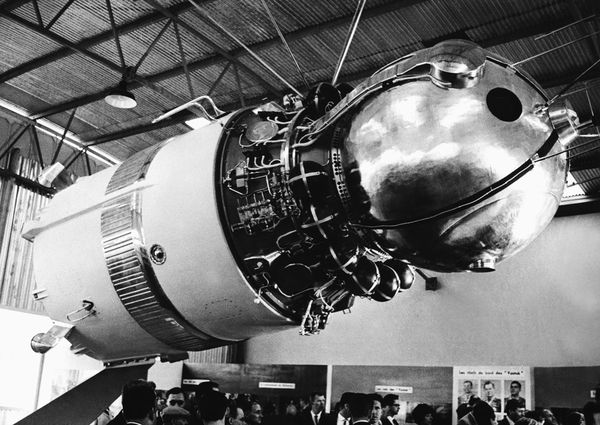 -Fun Fact-
(Launched on July 16, 1969 Neil Armstrong and Buzz Aldrin were the first men to land on the Moon on July 24. The interesting fact is though The Apollo computers had less processing power than a cellphone.)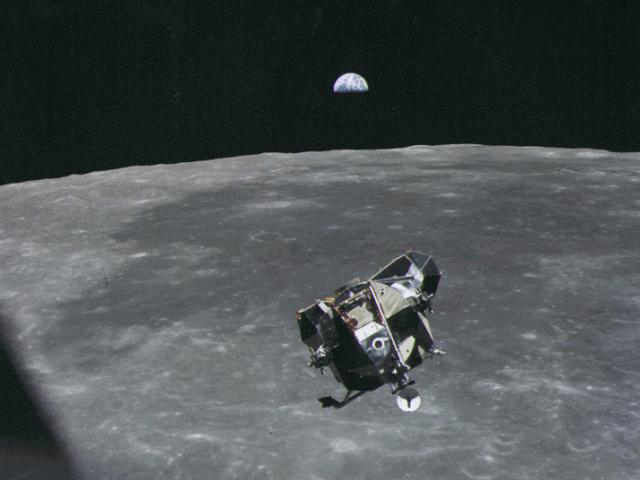 -Fun Fact-
(When Voyager I was launched in 1977 to study and photograph the giant outer planets of the Solar System, the robot ship was expected to survive just four years. However, like the battery advertising icon, the Energizer Bunny, the little spacecraft kept on going.)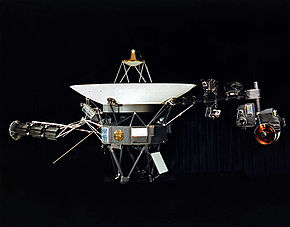 -Fun Fact-
(Both Voyager spacecrafts carry a greeting to any form of life, should that be encountered. The message is carried by a phonograph record. A 12-inch gold-plated copper disk containing sounds and images selected to portray the diversity of life and culture on Earth. )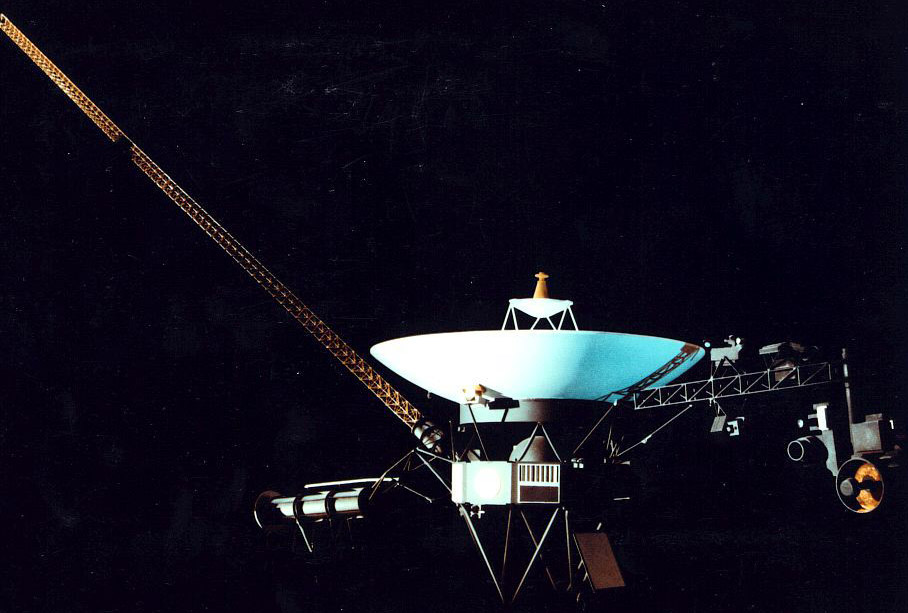 -Fun Fact-
(Cost $1.5billion and captured it's first image of Star Cluster NGC 3532 on May 20th 1990)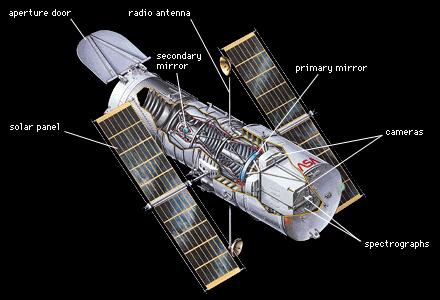 -Fun Fact-
(Kepler's telescope is so powerful that, from its view up in space, it could detect one person in a small town turning off a porch light at night.)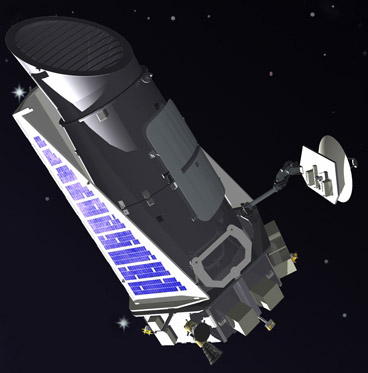 -Fun Fact-
(Jupiter is heavier than all the other planets put together.)
These are the eight planets in our Solar System

-Fun Fact-
(The world was introduced to dwarf planets in 2006, when petite Pluto was stripped of its planet status and reclassified as a dwarf planet.)
Ceres MakeMake Haumea Eris Pluto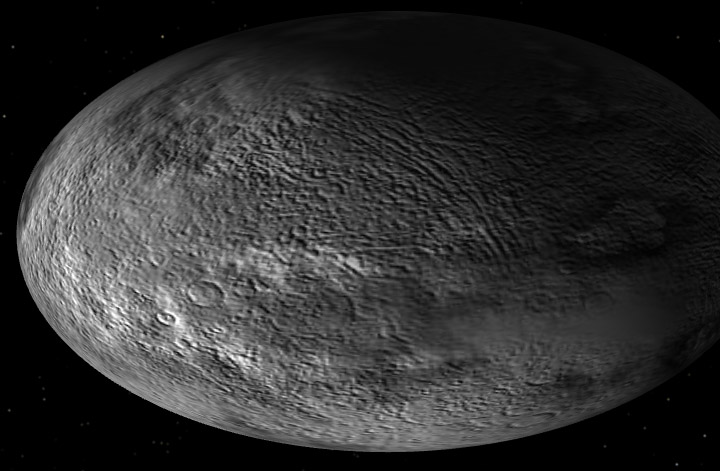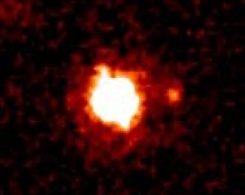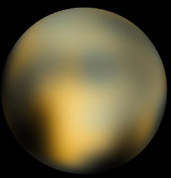 Although it orbits the Sun, and has pulled itself into a sphere, Pluto has failed to clear out all the other objects from its orbit. Earth more than 1 million times more massive than all the other material in its orbit combined, while Pluto is just a tiny fraction of the rest of the icy material around it.
The IAU decided that Pluto and Eris should be reclassified as dwarf planets. The asteroid Ceres meets those requirements, so it's a dwarf planet too.
Like Earth some planets have there own Moons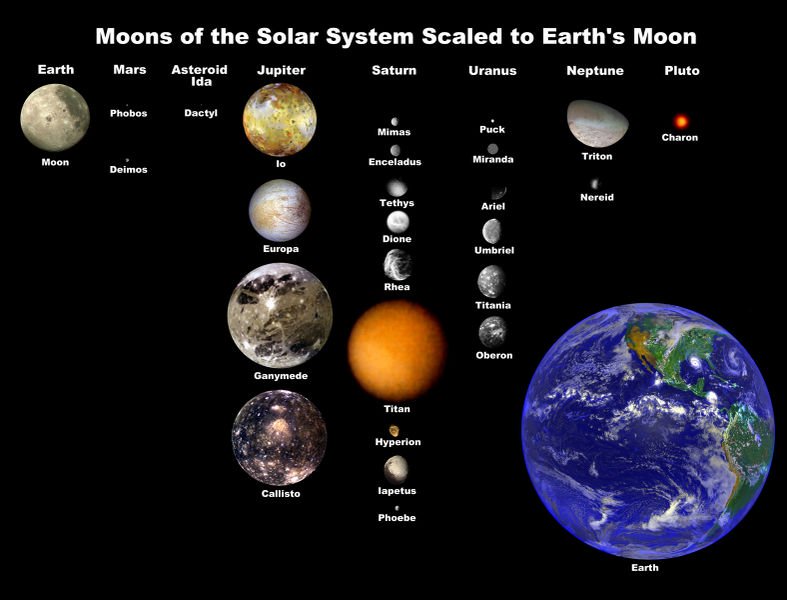 Moons of the Planets
-Fun Fact-
(1972 on Apollo 17 Gene Cernan was the last man to step off the luna surface)
This table lists all the moons of all the planets in our solar system. Every year new moons are discovered for the planets Jupiter, Saturn, Uranus and Neptune.
Planet
Moons
Names of Moons
Mercury

0

-
Venus
0
-
Earth

1

Luna
Mars

2

Phobos, Deimos
Jupiter

63

Io

,

Europa

,

Ganymede

,

Callisto

(Galilean moons)

;




Amalthea

,

Himalia

,

Elara

,

Pasiphae

,

Sinope

,

Lysithea

,

Carme

,

Ananke

,

Leda

;




Metis

,

Adrastea

(shepherd moons)

;




Thebe

, Callirrhoe, Themisto, Kalyke, Iocaste, Erinome, Harpalyke, Isonoe, Praxidike, Megaclite, Taygete, Chaldene, Autonoe, Thyone, Hermippe, Eurydome, Sponde, Pasithee, Euanthe, Kale, Orthosie, Euporie, Aitne
(+ 25 other moons)
Saturn
61

Titan

,

Rhea

,

Iapetus

,

Dione

,

Tethys

,

Enceladus

,

Mimas

,

Hyperion

;




Prometheus

,

Pandora

(shepherd moons)

;




Phoebe

,

Janus

,

Epimetheus

,

Helene

,

Telesto

,

Calypso

,

Atlas

,

Pan

,

Ymir

,

Paaliaq

,

Siarnaq

,

Tarvos

,

Kiviuq

,

Ijiraq

,

Thrymr

,

Skathi

,

Mundilfari

,

Erriapo

,

Albiorox

,

Suttung


(+ 30 other moons)
Uranus
27

Cordelia

,

Ophelia

, (shepherd moons);


Bianca

,

Cressida

,

Desdemona

,

Juliet

,

Portia

,

Rosalind

,

Belinda

,

Puck

,

Miranda

,

Ariel

,

Umbriel

,

Titania

,

Oberon

,

Caliban

,

Sycorax

,

Prospero

,

Setebos

,

Stephano

,

Trinculo


(+ 6 unnamed moons)
Neptune
13

Triton

,

Nereid

,

Naiad

,

Thalassa

,

Despina

,

Larissa

,

Proteus

,

Galatea

(shepherd moon)
(+ 5 unnamed moons)
Pluto

3

Charon, Hydra, Nix
-Fun Fact-
(Although this Planet is the closest thing we know of that could contain life it would still take us 22 million years to reach it)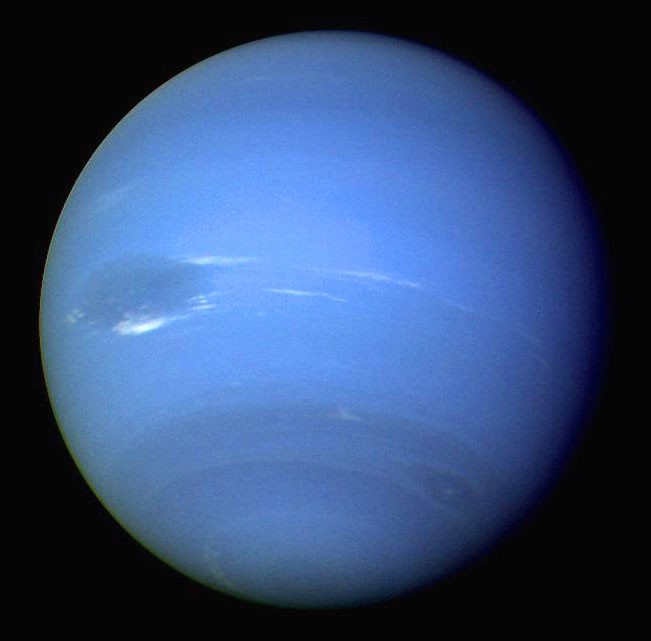 Is this where humankind will be living in a couple millenia? In a solar system 600 light years away spins the newly-spotted Kebler 22-b, a rocky planet with oceans covering two-thirds of its surface, and balmy temperatures approximating 70 degrees. the planet Kepler-22b, is 2.4 times bigger than Earth, orbits a star slightly smaller than our sun and has an average temperature of 22C. It is also closer to its sun-like star, giving it a "year" of 290 days.What makes this discovery so exciting is that it is the smallest planet right in the middle of what has been dubbed the Goldilocks zone, where it's not too hot and not too cold to either boil or freeze water, vital for life as we know it.
So far the Kepler telescope has spotted 2,326 candidate planets outside Earth's solar system with 139 of them potentially habitable ones.Even though the confirmed Kepler-22b is a bit big, it is smaller than most of the other candidates. It is closest to Earth in size, temperature and star than either of the two previously announced planets in the zone.
Even newer planets discovered in 2014
Scientists added a record 715 more planets to the list of known worlds beyond the solar system, boosting the overall tally to nearly 1,700, The additions include four planets about two and a half times as big as Earth that are the right distance from their parent stars for liquid surface water, which is believed to be key for life. The discoveries were made with the National Aeronautics and Space Administration's planet-hunting Kepler space telescope before it was sidelined by a pointing system problem last year. The telescope, launched in 2009, spent four productive years staring at 160,000 target stars for signs of planets passing by, relative to the telescope's line of sight. The tally of planets announced at a Nasa press conference confirmed planet count from 246 to 961. The newly found planets reinforce evidence that small planets, two to three times the size of Earth, are common throughout the galaxy. Like the solar system, which has eight planets plus Pluto and other so-called "dwarf planets," the newly found exoplanets belong in families. But unlike the solar system's planets, which span from inner Mercury to outer Neptune some 150 times farther from the sun than Earth, the Kepler clans are bunched in close. Most of the planets fly nearer to their parent stars than Venus orbits the sun, a distance of about 67m miles (108m km.) Nasa and other space agencies are designing follow-on telescopes to home in on planets in so-called "habitable zones around their parent stars where temperatures would be suitable for liquid surface water.
Yet our Solar System is just one member of a vast Milky Way galaxy with 200 to 400 billion stars. But how many galaxies are there in the entire Universe? This is a difficult number to know for certain, since we can only see a fraction of the Universe, even with our most powerful instruments. The most current estimates guess that there are 100 to 200 billion galaxies in the Universe, each of which has hundreds of billions of stars. A recent German supercomputer simulation put that number even higher: 500 billion. In other words, there could be a galaxy out there for every star in the Milky Way.
Galaxies
Most of the galaxies in the Universe are probably tiny dwarf galaxies. For example, in our Local Group of galaxies there are only 3 large spiral galaxies: the Milky Way, Andromeda, and the Triangulum Galaxy. The rest are dwarf and irregular galaxies.
-Fun Fact-
(If you could travel at the speed of light (186,000 miles per second) it would take 100,000 years to cross our galaxy!)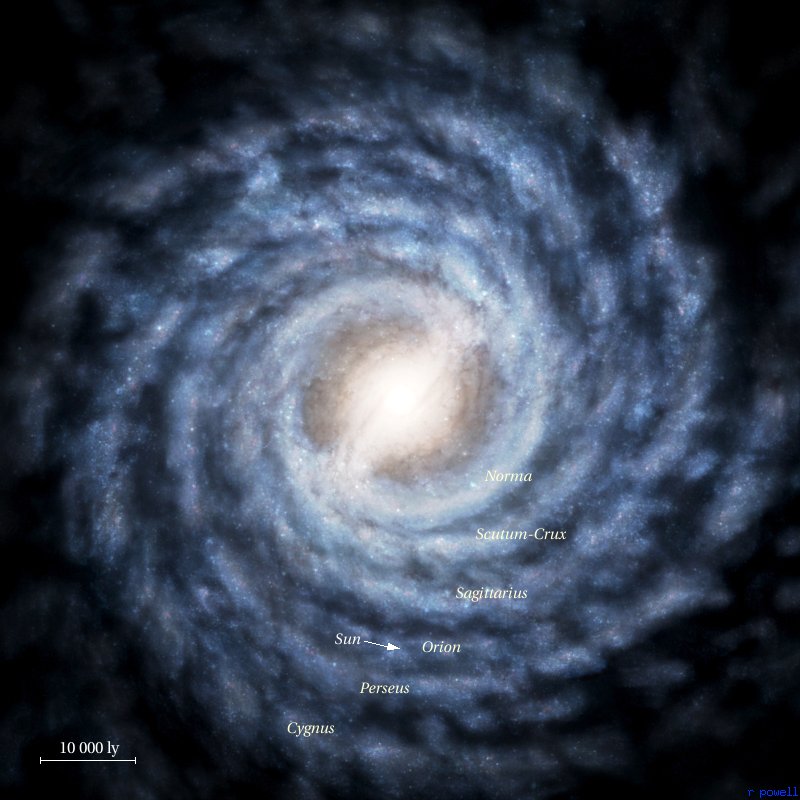 Properties of the Milky Way

Diameter of the Galaxy

90 000 light years

Classification of the Galaxy

SBbc

Number of stars in the Galaxy

200 billion

Mass of the Galaxy

1 trillion solar masses

Length of the central bar

25 000 light years

Distance of the Sun from the centre

26 000 light years

Thickness of the Galaxy at the Sun

2000 light years

Velocity of Sun around the Galaxy

220 km/s

Orbital period of Sun around the Galaxy

225 million years
-Fun Fact-
(When you look at the Andromeda galaxy (which is 2.3 million light years away), the light you are seeing took 2.3 million years to reach you. Thus you are seeing the galaxy as it was 2.3 million years ago.)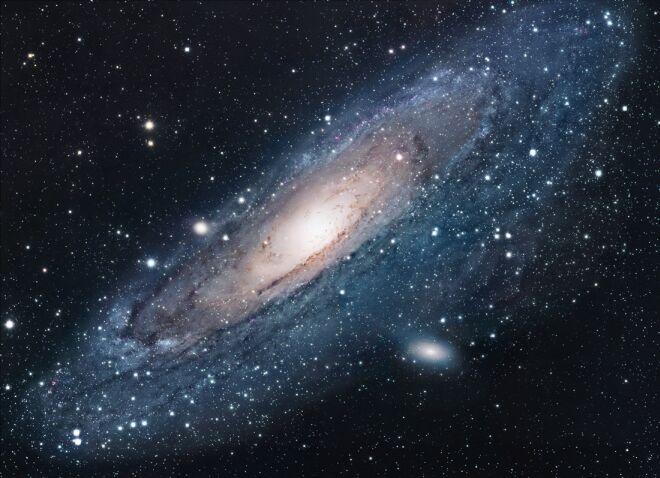 -Fun Fact-
Discovered by Giovanni Battista Hodierna in the mid sixteen hundreds.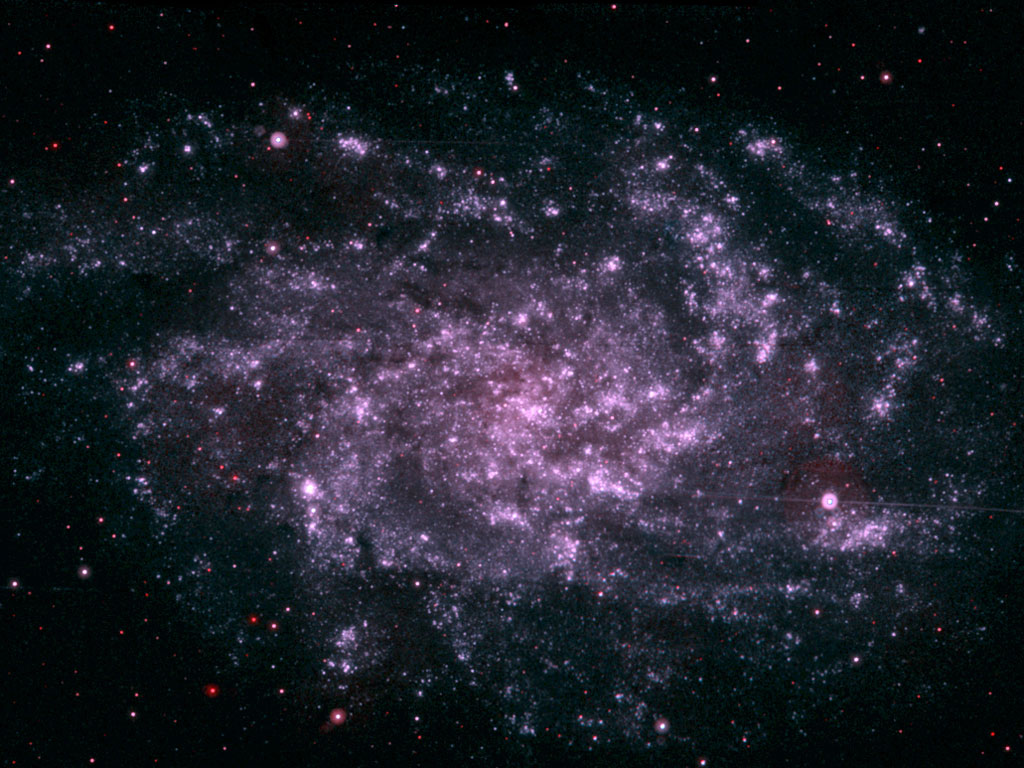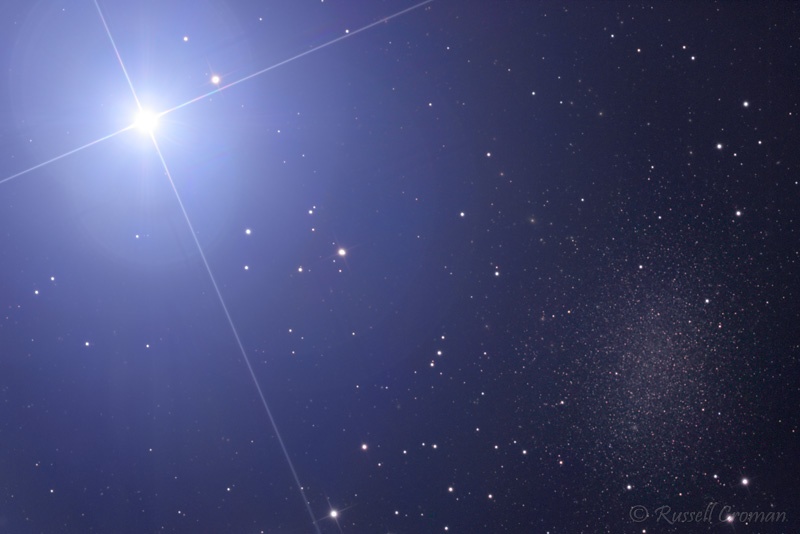 Almost all the stars in the Universe are collected together into galaxies. They can be small dwarf galaxies, with just 10 million or so stars, or they can be monstrous irregular galaxies with 10 trillion stars or more. Our own Milky Way galaxy seems to contain about 200 billion stars; and we're actually about average number of stars.
So an average galaxy contains between 1011 and 1012 stars. In other words, galaxies, on average have between 100 billion and 1 trillion numbers of stars.
Stars
-Fun Fact-
(If a piece of the sun the size of a pinhead were to be placed on Earth, you could not safely stand within 90 miles of it!)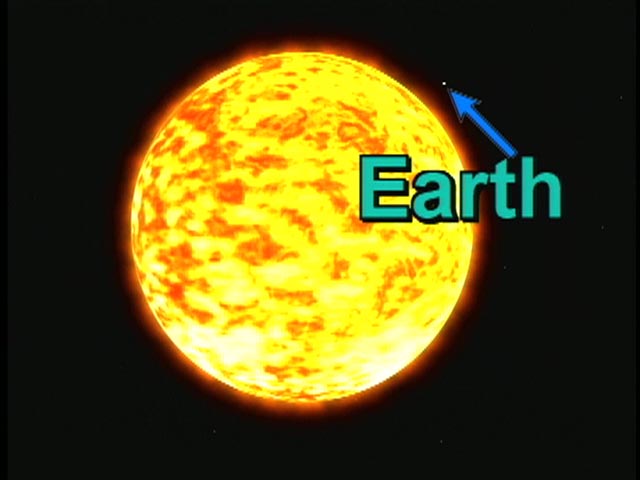 What's the Biggest Star in the Universe?
Before we jump straight to the answer, let's take a look at our own Sun for a sense of scale. Our familiar star is a mighty 1.4 million km across (870,000 miles). That's such a huge number that it's hard to get a sense of scale. The Sun accounts for 99.9% of all the matter in our Solar System. In fact, you could fit one million planet Earths inside the Sun.
Astronomers use the terms "solar radius" and "solar mass" to compare large and smaller stars, so we'll do the same. A solar radius is 690,000 km (432,000 miles) and 1 solar mass is 2 x 1030 kilograms (4.3 x 1030 pounds). That's 2,000,000,000,000,000,000,000,000,000,000 kg.
Slide show of Planets and Stars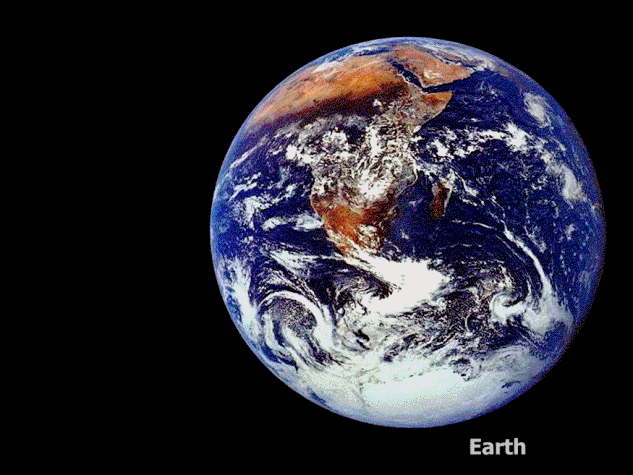 -Fun Fact-
It would take (Seventy quadrillion) Earths to fill up the VY Canis Majoris).
This is a red hypergiant star. It is the largest known star and is also one of the most luminous. It is located about 5,000 light years from Earth. The estimated radius of the star is 1800 to 2100 times solar. IF it were plopped into the place of the Sun its size would take out into the orbit of Saturn.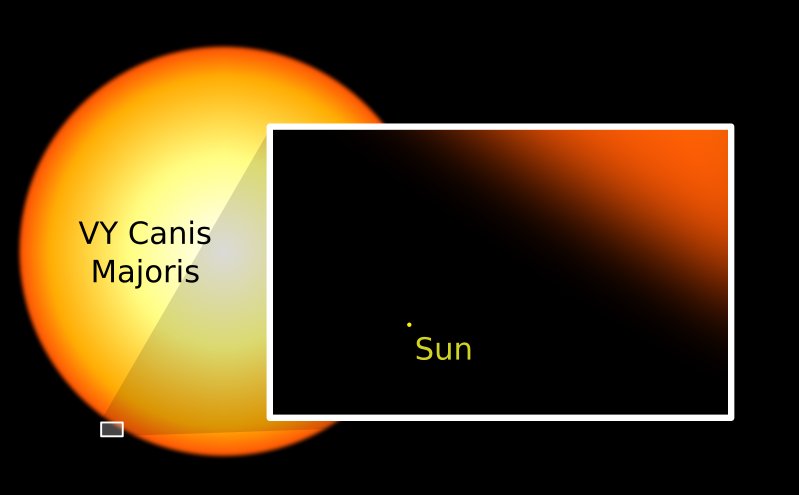 Quick catch up
Ok so far theres Earth, we are in the middle of Venus and Mars which make up three of the Eight planets in our Solar System. Our main star is the Sun, Earth could be placed inside the Sun a million times over. All of this is inside the Milky Way Galaxy, The Milky Way Galaxy is the home to 100 billion up to 400 billion other Stars of what we know about. The mother of all these Stars is VY Canis Majoris and again of what we know about! Our Galaxy is just one of up to and again of what we know about 200 billion other Galaxies. Some Galaxies can be the home to up to 100 Trillion Stars. And every now and again a star will explode.
So what happens when a star explodes?
-Fun Fact-
(Betelgeuse is the tenth brightest star in the sky)
Next Star to explode and did you see the size of it! Incase you didn't click the links i will update you. Basically stars are like us, as we age we become closer to death but with Stars the bigger they become the more likely they are to explode.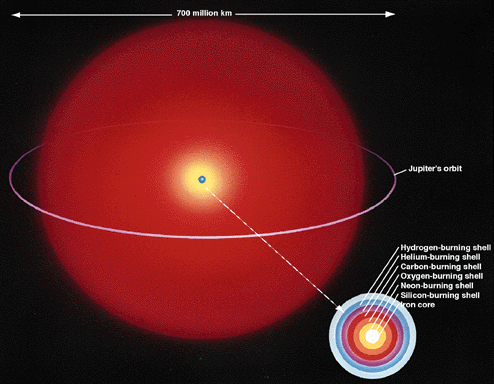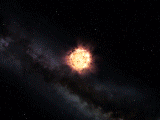 After the Explosion it causes a Supernovae

-Fun Fact-
(A supernova lasts a week)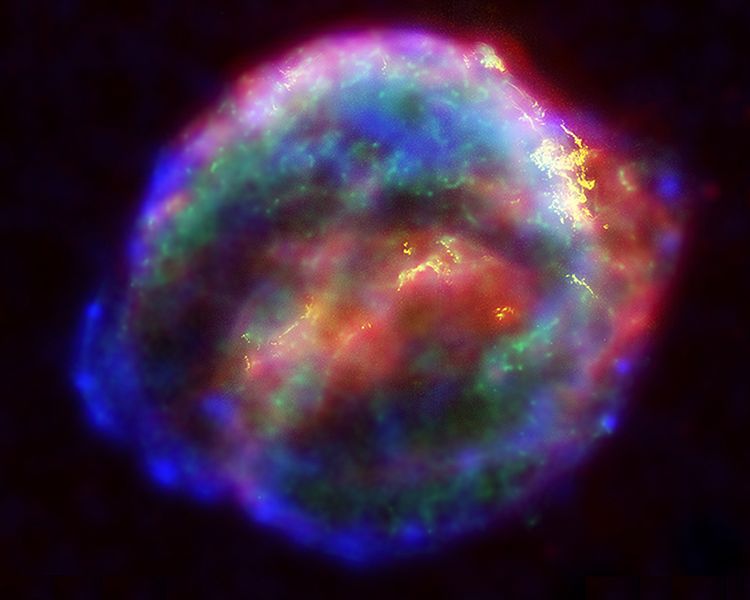 What happens to the Supernovae?
-Fun Fact-

(There is a super massive black hole at the center of the Milky Way galaxy. It weighs in at about 4 million solar masses. Luckily, there is no reason to worry. This giant sucker is over 30,000 light years away.)
Black holes are invisible but the forces they unleash cause some of the brightest phenomena in the Universe; quasars. The gravitational lensing effect of stars in a distant galaxy and the Hubble Space Telescope have teamed up to observe a quasar accretion disk, the brightly glowing disk of matter that is slowly being sucked into its galaxy's central black hole, which heat up and emit extremely bright radiation as they 'enter'.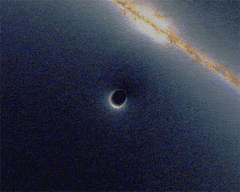 For every in theres a out!
Whitehole
White holes are the opposite of black holes, objects into which nothing can enter but are constantly spewing out matter. They were thought to be completely hypothetical, more a mathematical oddity than a real thing...but we may have seen one.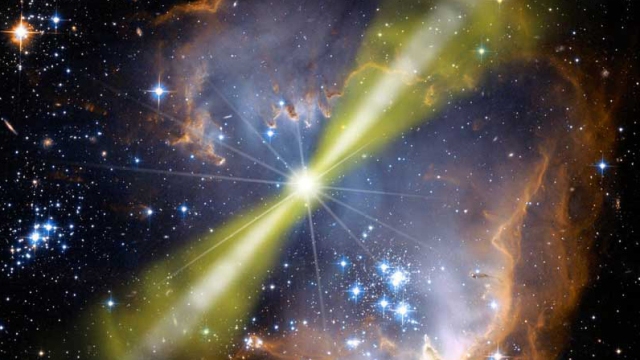 If we stuck the Blackhole and Whitehole together we come up with a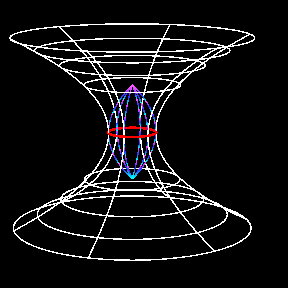 The Schwarzschild metric admits negative square root as well as positive square root solutions for the geometry. The complete Schwarzschild geometry consists of a black hole, a white hole, and two Universes connected at their horizons by a wormhole. The negative square root solution inside the horizon represents a white hole. A white hole is a black hole running backwards in time. Just as black holes swallow things irretrievably, so also do white holes spit them out. White holes cannot exist, since they violate the second law of thermodynamics. General Relativity is time symmetric. It does not know about the second law of thermodynamics, and it does not know about which way cause and effect go. But we do. The negative square root solution outside the horizon represents another Universe. The wormhole joining the two separate Universes is known as the Einstein-Rosen bridge.
From the remains, New Stars Arise
The dust and debris left behind by novae and supernovae eventually blend with the surrounding interstellar gas and dust, enriching it with the heavy elements and chemical compounds produced during stellar death. Eventually, those materials are recycled, providing the building blocks for a new generation of stars and accompanying planetary systems.
Ok so with all that going on in the Universe do you really think we're alone?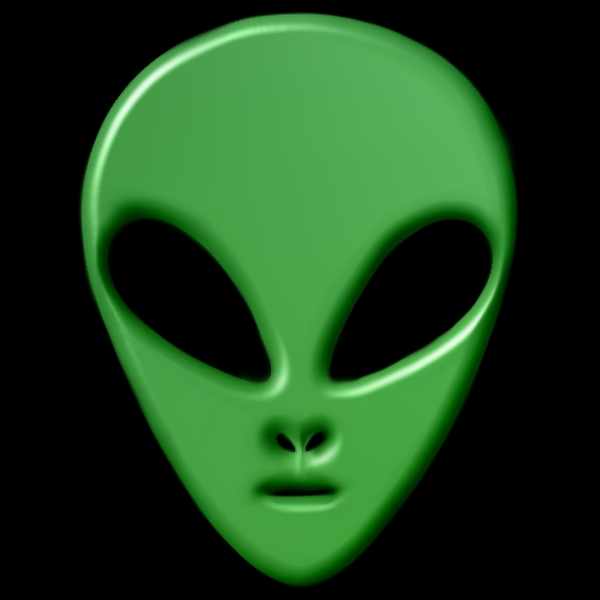 Asteroids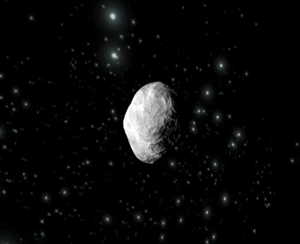 Though too small to earn the distinction of planet, asteroids and comets strike huge fear in the human mind. And for good reason: at some point in the future, one of the chunky rocks or icy mud balls will slam into Earth and alter the course of history. Such an impact 65 million years ago is widely believed to have killed off the dinosaurs.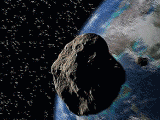 Asteroids and comets are considered remnants from the giant cloud of gas and dust that condensed to create the sun, planets, and moons some 4.5 billion years ago. Today, most asteroids orbit the sun in a tightly packed belt located between Mars and Jupiter.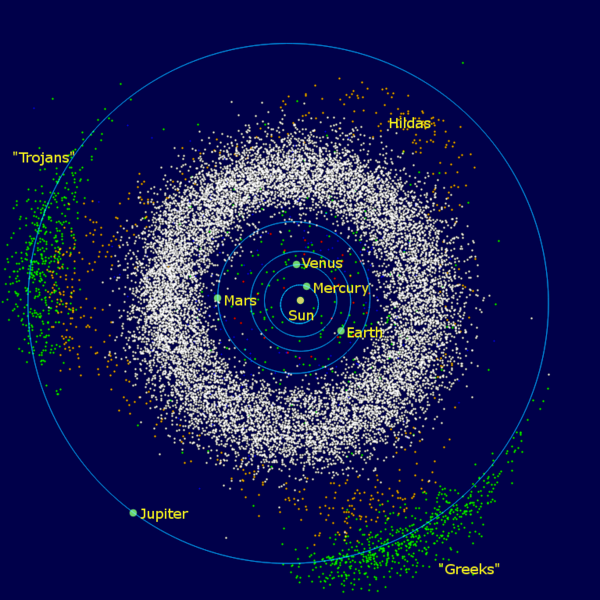 Comets are relegated to either a cloud or belt on the solar system fringe. Gravitational tugs, orbital collisions, and interstellar jostles occasionally perturb an asteroid or comet onto a wayward path.
The distinction between asteroids and comets is fuzzy—comets tend to have more chemical compounds that vaporize when heated, such as water, and more elliptical (egg-shaped) orbits than asteroids do. And when observed through a telescope, comets appear fuzzier.
Did you know this little bad boy nearly ruined our christmas, and no it wasn't Santa

It passed earth 201,700 miles away. And in terms of the size of the Universe thats pretty close.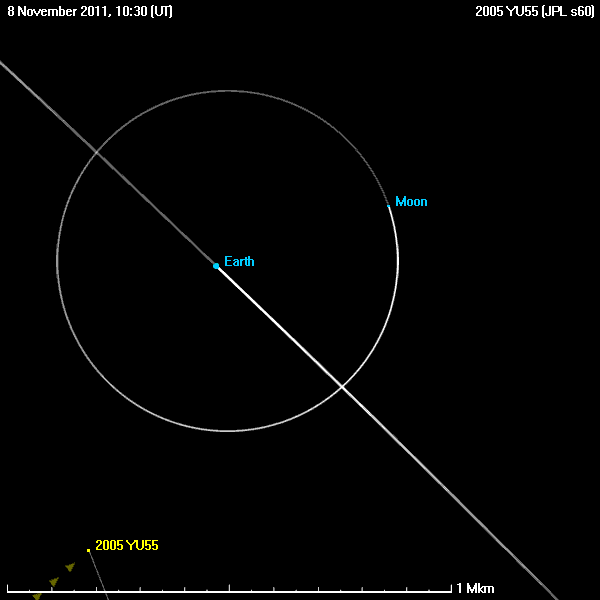 So how many asteroids actually hit earth
A study done in 1996 (looking at the number of meteorites found in deserts over time) calculated that for objects in the 10 gram to 1 kilogram size range, 2900-7300 kilograms per year hit Earth. However, unlike the number above this does not include the small dust particles. They also estimate between 36 and 166 meteorites larger than 10 grams fall to Earth per million square kilometers per year. Over the whole surface area of Earth, that translates to 18,000 to 84,000 meteorites bigger than 10 grams per year. But most meteorites are too small to actually fall all the way to the surface.
Asteroid Impacts: 10 Biggest Known Hits
The asteroid known as 2012 DA14 narrowly missed Earth on February 15th 2013, the closest asteroid flyby on record. But the planet has not always been so lucky.
Earth's craters are enduring testaments to direct asteroid hits. And though millions—in some cases billions—of years of erosion have made it difficult to determine the exact size of the meteorites, there is a general scientific consensus around the world's largest craters, which mark the largest asteroid impacts.
Here are the ten biggest known:
1. Vredefort Crater
Asteroid impact date: Estimated 2 billion years ago
Location: Free State, South Africa
Specs: Also known as the Vredefort Dome, the Vredefort crater has an estimated radius of 118 miles (190 kilometers), making it the world's largest known impact structure. This crater was declared aUNESCO World Heritage Site in 2005.
2. Sudbury Basin
Asteroid impact date: Estimated 1.8 billion years ago
Location: Ontario, Canada
Specs: TheSudbury Basin is considered one of largest impact structures on Earth, with an estimated diameter of 81 miles (130 kilometers). Dating back 1.8 billion years, it is also one of the oldest known impact structures in the world.
3. Acraman Crater
Asteroid impact date: Estimated 580 million years ago
Location: South Australia, Australia
Specs: Located in what is now Lake Acraman, this impact structure has an estimated diameter of 56 miles (90 kilometers).
4. Woodleigh Crater
Asteroid impact date: Estimated 364 million years ago
Location: Western Australia, Australia
Specs: This crater is not exposed at the surface and has led to many discrepancies regarding its actual size. Reports on its diameter vary from 25 to 75 miles (40 to 120 kilometers).
5. Manicouagan Crater
Asteroid impact date: Estimated 215 million years ago
Location: Quebec, Canada
Specs: This impact crater formed what is nowLake Manicouagan. Even with erosion, it's considered one of the largest and best-preserved craters on Earth, with an estimated diameter of 62 miles (100 kilometers).
6. Morokweng Crater
Asteroid impact date: Estimated 145 million years ago
Location: North West, South Africa
Specs: Located near the Kalahari Desert in South Africa, this crater contained the fossilized remains of the meteorite that created it.
7. Kara Crater
Asteroid impact date: Estimated 70.3 million years ago
Location: Nenetsia, Russia
Specs: Now greatly eroded, the Kara crater is a non-exposed impact structure in Russia. Some have claimed that the impact structure actually consists of two adjacent craters: the Kara and the Ust-Kara crater.
8. Chicxulub Crater
Asteroid impact date: Estimated 65 million years ago
Location: Yucatán, Mexico
Specs: Located on the Yucatán Peninsula in Mexico, many scientists believe that the meteorite that left this crater caused or contributed to the extinction of the dinosaurs. Estimates of its actual diameter range from 106 to a whooping 186 miles (170 to 300 kilometers), which if proved right could mean it's the biggest.
9. Popigai Crater
Asteroid impact date: Estimated 35.7 million years ago
Location: Siberia, Russia
Specs: Russian scientists claim that this crater site contains trillions of carats of diamonds, making it one of the largest diamond deposits in the world. These diamonds have been referred to as "impact diamonds."
10. Chesapeake Bay Crater
Asteroid impact date: Estimated 35 million years ago
Location: Virginia, United States
Specs: Discovered in the early 1980s, the Chesapeake Bay Crater is located approximately 125 miles (201 kilometers) from Washington, D.C. Some estimates suggest this crater is 53 miles (85 kilometers) wide.
February 15, 2013
asteroid 2012 DA14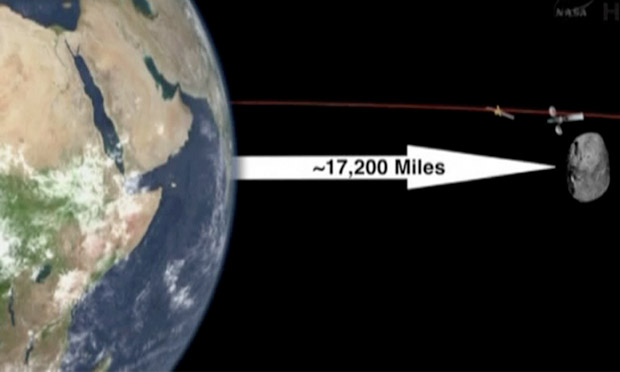 February 15, 2013 7pm PST

New information provided by a worldwide network of sensors has allowed scientists to refine their estimates for the size of the object that entered that atmosphere and disintegrated in the skies over Chelyabinsk, Russia, at 7:20:26 p.m. PST, or 10:20:26 p.m. EST on Feb. 14 (3:20:26 UTC on Feb. 15).

The estimated size of the object, prior to entering Earth's atmosphere, has been revised upward from 49 feet (15 meters) to 55 feet (17 meters), and its estimated mass has increased from 7,000 to 10,000 tons. Also, the estimate for energy released during the event has increased by 30 kilotons to nearly 500 kilotons of energy released. These new estimates were generated using new data that had been collected by five additional infrasound stations located around the world - the first recording of the event being in Alaska, over 6,500 kilometers away from Chelyabinsk. The infrasound data indicates that the event, from atmospheric entry to the meteor's airborne disintegration took 32.5 seconds. The calculations using the infrasound data were performed by Peter Brown at the University of Western Ontario, Canada.

"We would expect an event of this magnitude to occur once every 100 years on average," said Paul Chodas of NASA's Near-Earth Object Program Office at the Jet Propulsion Laboratory in Pasadena, Calif. "When you have a fireball of this size we would expect a large number of meteorites to reach the surface and in this case there were probably some large ones."

The trajectory of the Russia meteor was significantly different than the trajectory of the asteroid 2012 DA14, which hours later made its flyby of Earth, making it a completely unrelated object. The Russia meteor is the largest reported since 1908, when a meteor hit Tunguska, Siberia.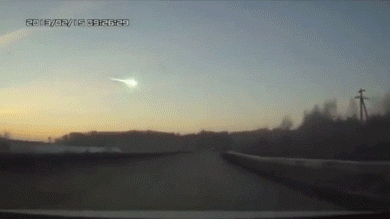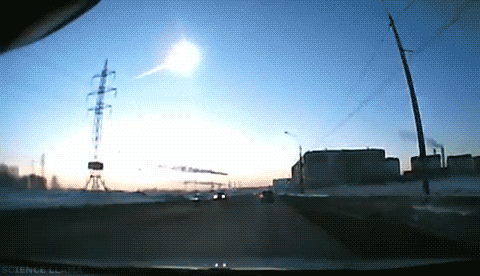 Meteor Showers at a town near you!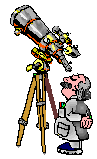 So the last asteroid to raise an eyebrow was 65,000,000 million years ago
Question is?
Not if, but when will the next one hit!
i just hope i've won the league by then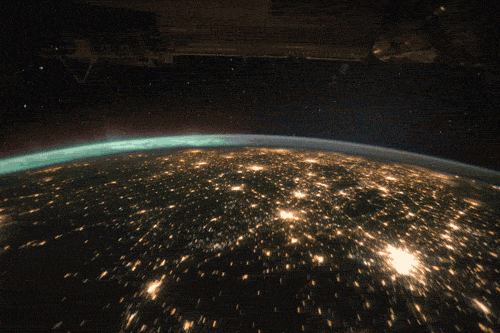 Share on Facebook
This blogger owns the team British Bulldogs. Team details