ManagerLeague.ro Fotbal Online Gratuit Live 2017
See all entries in this blog
ManagerLeague.ro Fantasy Football
(14/03/2011 02:53)
ManagerLeague.ro Fantasy Football Manager de Fotbal
Fantasy football has increasingly gained popularity since its inception in 1991, rapidly becoming a common pastime of both adults and children alike. Not only do you get to take part in popular football leagues such as the English Premier League and Football League, you also have the chance to manage your own team by playing an online football manager game. An online football manager game allows you to play with thousands of players from around the world where each player owns a team and takes part in football matches. One such onlin football manager game is ManagerLeague.ro ManagerLeague is a multiplayer game where a player takes charge of his own team and can buy and sell players as the league progresses and is now famous among Romanian managers that proved they love football.

This online football manager game is the most action-packed football manager game of them all and is bound to have both adult and child riveted to their seats with concentration. The excitement just keeps on increasing especially when playing the league games. There are 2 league matches per weekday as well as training sessions and each team is ensured a full season's play each month. The opportunities to play friendlies to increase your team's experience as well as the chance to challenge anyone to a game at any time are also invaluable features of this online football manager game. ManagerLeague is non-stop player action packed into a dynamic and fun-filled game!

Recently, a new milestone was reached after the first Romanian Q99 player was obtained in Romanian League. This is a great achievement and will be remembered for many seasons from now. It is time for you to join now on ManagerLeague and try this great online fotbal manager game out absolutely free. It is such a fantastic game that you won't be able to stop playing and is worth every penny to add to your collection. Enter with a simple click on ManagerLeague.ro , join and you will be up and playing within a few minutes; this is one experience you shouldn't miss out on!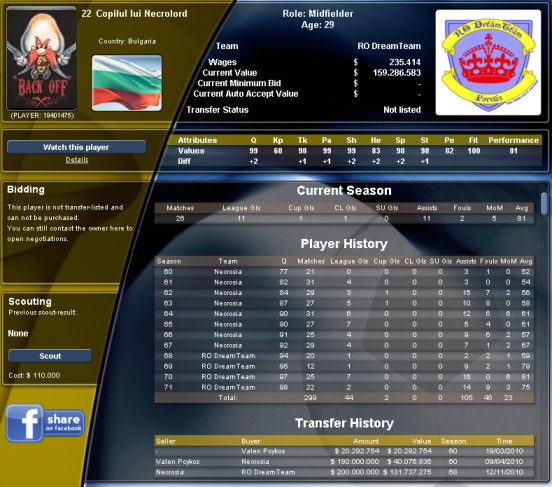 Share on Facebook
Blogger has no team.